Download Gujarat Rozgaar Samachar (29/08/2018)
Gujarat Information : Gujarat Rozgaar samachar (29/08/2018)
Gujarat Rozgaar Samachar: Government of Gujarat has published latest Download Gujarat Rojgaar Samachar (29/08/2018)
Download free Rojgar samachar in pdf file, Read an Important highlights before downloading it.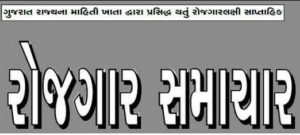 Important highlights from Gujarat Rozgaar samachar – 29/08/2018
Graduate Aptitude Test in Engineering (GATE 2019) Notification
Application invited for various post in Kendriya Vidyalaya Sangathan (KVS)
All India Institute of Medical Sciences. Rishikesh invites application for various post
ALIMCO-Artificial Limbs Manufacturing Corporation of India invited application for Direct Recruitment for various post.
Download Rozgaar Samachar